Project
The VR experimenting station is an alloy of an application and a tailor-made cockpit. Two players fly together through a Virtual Reality world while collaborating and competing against time.
Research
The following questions are relevant to the research project: How are VR worlds perceived? Are there differences in spatial orientation, game behavior, cooperation, and communication, which are correlated with different scientific disciplines of the subjects? The findings could help to identify the success factors of collaborative VR experiences. Methodically, the recorded game course, questionnaires, and interviews are used for data generation.
Results
Spatial awareness and collaboration are still open questions in VR. The experimenting station can be used to develop a space theory that includes virtual spaces and experiments with them.
Project Members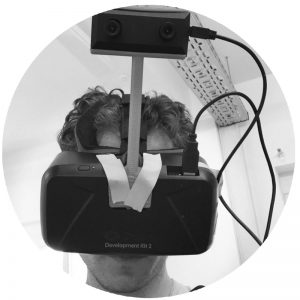 Christian Stein

Matthäus Oelschläger
Partners